Share: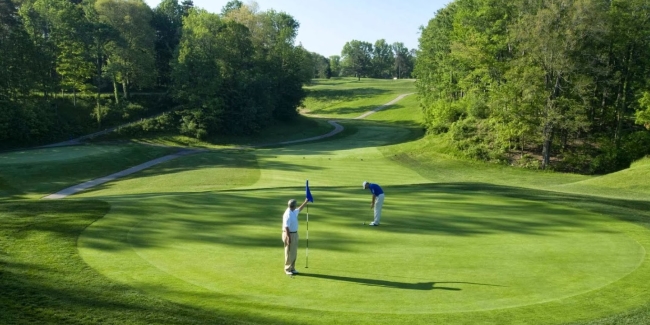 Cleveland's Manakiki Golf Course Doesn't Get Any Better
Pure Golf
By Jerry Slaske
If you don't like Manakiki, you don't like the game of golf.

The Donald Ross course, 17 miles east of downtown Cleveland (an easy 20-25 minute ride), is a must-play for anyone visiting the area. Owned and operated by Cleveland Metroparks, it is kept in immaculate shape. And the staff is darn proud of it. Just ask any one of them. I did, and John on the maintenance crew, talked endlessly about the course's past and present. Inside the stately clubhouse and outside at the starter's booth, I was met with the same pride and congeniality. Pat in the pro shop was kind enough to show me around the clubhouse.

Opened in 1928, Manakiki is a rolling, tree-lined track with elevated tee boxes and small...some might say tiny...pedestal-like greens. It is a treat to stand on each tee and look down the well-defined, sloping, and narrow fairways. On many newer courses, you can just tee it up and let it fly. Not here. While short by today's standards (6,643 yards from the tips), Manakiki is long on planning and precision. For example, you just can't roll your ball onto the greens; you have to hit them...or get a lucky bounce.

Holes #10 (430 yards, par 4) and #18 (384 yards, par 4) are good examples of how this course demands you use what's between your ears. The tee shots are down into tree-lined canyons with landing areas about 20 yards wide. From there, it's back up to shallow, bunkered greens. (The backdrop on #18 is the elegant, white clubhouse.) Shot placement and club selection are critical, as they are throughout the course. Moreover, Manakiki has four of the best par 3s, ranging in length from 140 to 205 yards, that I've ever played.

Hitting to a level lie is key to scoring. Bunkers are well placed, but the sand could be a bit firmer. Water comes into play on only a couple of holes (#3, par 5, 471 yards and #15, par 3, 205 yards). And the rough is manageable.

During the 1950s, Manakiki hosted the PGA's Carling Open; at 443 yards, #8 was considered the most difficult par 4 on tour at the time. And it still is a bear. The dogleg left requires a long draw in the fairway. After that, the fairway tilts to the right while the green is level. If you miss to the right on your approach, you'd better hope your ball finds the trap on the right; otherwise you'll have a more difficult pitch back up to the green.

The 200-acre property was once the estate of a Cleveland industrialist. In fact, the mansion is now the clubhouse. Up until the early 1960s, Manakiki was a private club. But Cleveland golfers should be thankful it's now public because Manakiki is what golf was meant to be: pure fun and frustration. If I lived in Cleveland, I know where I'd be playing every day.

Despite the elevation changes and sloping terrain, Manakiki is walkable. At 64 years of age, I carried and walked and finished in three hours. On an early Friday morning in late September, I paid $21. As the affable starter told me, people from out East play there and expect to pay over $100 for such quality. Unfortunately, I played the course just after the greens had been aerated.

Revised: 10/28/2015 - Article Viewed 23,434 Times - View Golf Course Profile
About: Jerry Slaske
---

KEY Milwaukee is a tradition in Wisconsin's largest city. As the leading visitor guide in Southeastern Wisconsin, we're distributed in hotels, motels, restaurants and visitor centers throughout the metropolitan area, beginning at the Illinois-Wisconsin border.
---
More Articles by Jerry Slaske